I have finally released the update for the early access and demo where you can now play as Felicie too.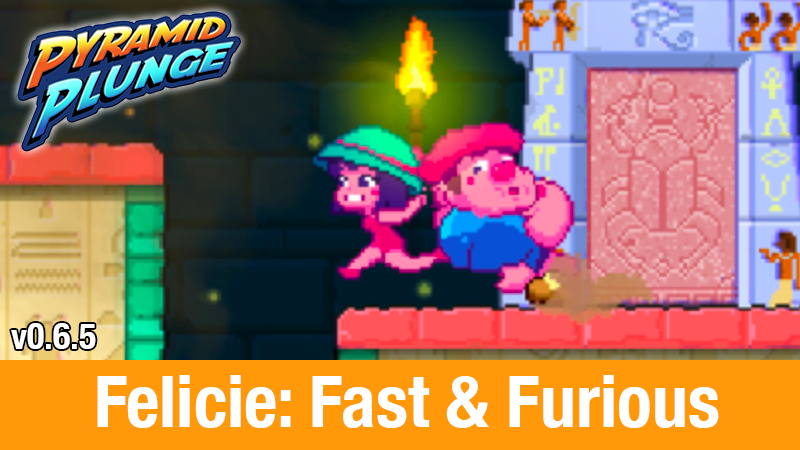 Giorgio is too fat to be carried! So she pulls him from his ear haha.
She's more nimble than Giorgio and so you might find her a bit more challenging to control. But once you get used to her movement, you will be zapping faster through the levels (of course if you're not dragging Giorgio by his ear).
Ah yes, she doesn't fart too, because you know… she's refined 🙂
Watch the new trailer:
Release Notes
Added
You can now play as Felicie and pull Giorgio by the ear and throw him around

Felicie runs a bit faster when not carrying Giorgio
Voices for Felicie are not complete yet
There are some minor known issues when playing as Felicie, e.g. color of text is not swapped, or if Giorgio dies in Multiplayer it says Felicie died. Will be fixed in the next build.

Re-enabled switcheroo. This is a ghost-like entity rarely found in crates, which will swap the souls of Giorgio and Felicie. So if you're playing with Giorgio, you start controlling Felicie (or vice-versa)
Warning to press jump button to jump higher. This is to re-inforce the tutorial that you have to keep the jump button pressed to go higher.
Global timer for speed runners. You now get an incrementing timer at the bottom across the levels.
Fixed
Fix for erroneously swapping player's x-scale when throwing rope on a single tile
Fix for crash if player gets hit by an arrow while pulling up friend
Fix for disappearing enemy when being hit at the edge (during the delay before it switches direction, causing an image_xscale of 0)
Fix for animated pickups on P1 in multiplayer being off
Fix for crates getting teleporting when throwing them in a corridor along the ceiling (managed to reproduce only with Felicie)
Modified
Jellyfish in multiplayer changes color
Dropped loot can trigger traps too. It look quite odd for a red jewel to fall on a switch and it doesn't get pressed!
Health pickups go in inventory now, so you can drop them to give them your friend. This was quite requested, where players wanted to have more control on health packs, so they can donate them to their partner.
Accept Enter key in menu (suggested by Linux gaming group). This was quite stupid from my part to omit the Enter key to select a menu item 🙂
Disable double kills during boss fights because otherwise scores are too high (recommended by Jonathon)